What Is A Web Server Log File?
A web server log file is a file which keeps track of all requests that are sent to that web server. The requests can come from humans through browsers or from bots (like search engine bots) through crawlers. Each requests either from humans or robots produces a single line of code in these files. Web server log files are also very useful to analyze the audience of a website because they provide precise information on site traffic. 
What Does A Web Server Log File Look Like?

What Is The Information In One Line Of A Web Server Log File?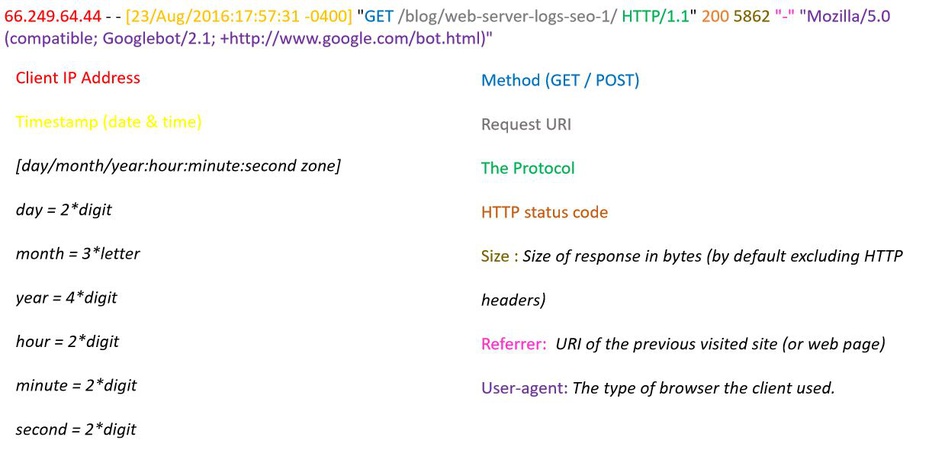 Web Server Softwares and Web Server Logs Format
| | |
| --- | --- |
| | http://httpd.apache.org/docs/current/logs.html#accesslog |
| | http://nginx.org/en/docs/http/ngx_http_log_module.html |
| | https://www.microsoft.com/technet/prodtechnol/WindowsServer2003/Library/IIS/676400bc-8969-4aa7-851a-9319490a9bbb.mspx?mfr=true |
Why Do We Need Web Server Log File Analysis For SEO?
Any analytics tools provide information about the pages bringing visits to a website but none of them provide complete information about the pages which are crawled by search engine bots.

The information given about indexed pages of a website from google 

 is not accurate, besides it is not possible to

 access or extract those pages completely.

The only tool that gives information on google crawl is Google Search Console  but ...
Why  Google Search Console Is Not Sufficient For SEO?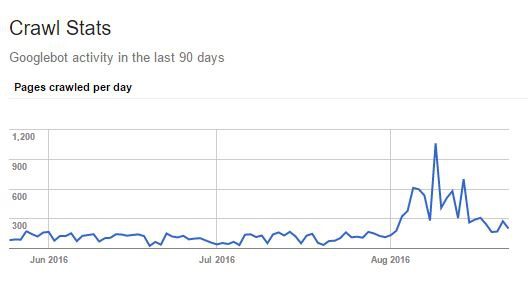 In SEO what we focus on is the contents and the strategical contents crawl by googlebot.
1) However at Search Console on crawl stats graph we see the crawl of all the google bots and all web elements crawls (css, javascript, flash, pdf, images) on a  web site.
2) We can not identify the status code of the crawled web pages on that crawl stats graph.
3) The crawl stats graph shows unique crawl but in SEO we would like to know how frequently (or how many times) a certain page or some pages are crawled too.
4) Crawled pages by googlebot can not be accessed or extracted from Search Console therefore we can not
Categorize them
Analyze them
Keep historical crawl data
5) We do not have access to all active pages ( pages receiving organic search engine visits) data. In Search Console we only have access to pages bringing Top and Middle Tail traffic, we do not have access to the active pages bringing in long tail traffic.
Have comments, questions or feedback about this article? Please do share them with us here.
If you like this article