AYSUN AKARSU
Data Scientist / Founder / Blogger / Speaker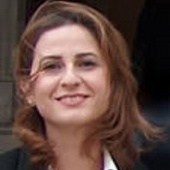 I am a trilingual data scientist specialized in machine intelligence for digital marketing wanting to help companies in making data driven decisions for reaching a broader, qualified audience. 

As a professional search data strategist, I worked at Aposition (former Botify company) longtime. Through my career I have had clients, primarily enterprise level international companies on organic search across a number of vertical markets including travel, accommodation, telecoms, ecommerce, media. I have managed many long term global SEO projects for internationally well-known brands such as Nokia, SFR. I have taken the responsibility of defining their online properties search data strategy for several years.

I have proficiency in analysis of the internal and external search data, internally crawls, web server log files, analytics tools e.g. Google Analytics, Search Console, PPC, internal search data and databases, externally such as links, crawls (of other websites), SERPs, APIs. Expertise not only analyzing each of them but also crossing all these data to get powerful insights. Competence in analyzing big search data on huge web sites; Ebay, Viadeo, Kelkoo, Homeaway, Izlesene to name a few.

My objective is bringing web platforms particularly with high volume of pages and high traffic, solid technology solutions that can take their search traffic acquisition to the next level. I would like to assist them in building and maintaining their search marketing analytics platforms. I wish to help them to leverage their marketing and IT teams search knowledge while bridging the gap between two.
I am also a tech conference speaker. Some of the conferences where I spoke are:
Some of the conferences where I spoke
TechSEO Boost: Technical SEO Conference at TechSEO Boost, November 2018, Boston, United States (participated in a panel discussion)
Crawl-first SEO at BrightonSEO, September 2018, Brighton United Kingdom
On The Road To HTTPS Everywhere at BrightonSEO, September 2017, Brighton United Kingdom
Future of Search & SEO / Featuring Six Blind Men & Elephant at Web Marketing Festival, June 2017, Rimini  Italy
The Road To A More Secure Web at SEOCamp, March 2017, Paris France
Recherche & SEO / Aujourd'hui & Demain at QueDuWeb April 2017, Deauville France
Sur La Route Vers Le HTTPS at WebCampDay, May 2017,  Angers France
Certificates
Datascientest : Intensive Data Science Bootcamp in Paris France
Udacity : Bertelsmann Data Science Scholarship • Facebook PyTorch Scholarship • Udacity Data Foundations Nanodegree
Coursera : Data Engineering on Google Cloud Platform Specialization
IBM : Data Scientist, Data Engineering Certificates
Google : Google Analytics, Google Adwords, Mobile Sites, Digital Sales Certificated Professional
Botify : Botify Certified Consultant
Social Media
Linkedin : https://www.linkedin.com/in/aysunakarsu
Twitter : https://www.twitter.com/aysunakarsu
Twitter : https://www.twitter.com/searchdatalogy
Github : https://github.com/aysunakarsu
Kaggle :  https://www.kaggle.com/aysunakarsu
Please fill in the form below and I will reply as soon as possible!