Bing Improves Academic & Movie Search Autocompletion
Bing announced becoming more intelligent with new Autocomplete features for academic and movie search on 09/09/2016. Bing had launched its simple autocompletion few years ago, since then it  is able to propose words on the basis of what has been already typed by the keyboard on Bing's search box. Subsequently, on 20 September 2013, the firm deployed Microsoft PageZero, a more advanced autocompletion system providing answers sometimes directly during the search. Now it is the beginning of a new era with machine learning which is about guessing users search intentions.
Academic-related searches
With this new autocomplete improvement Bing enables users to explore the relationships between papers, authors, topics and publications through a large object graph  for  academic-related searches.
Possible scenario examples which user can explore 
 Find all papers by an author

 Find a paper written by particular co-authors

 Find a paper about a specific topic presented at a conference

 Suggest titles or authors
Bing Search: papers about deep learning by a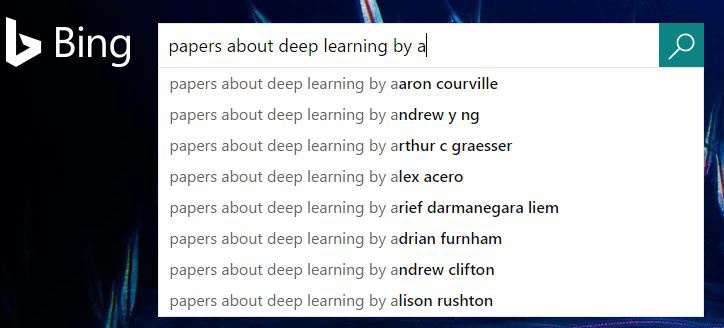 Google Search:  papers about deep learning by a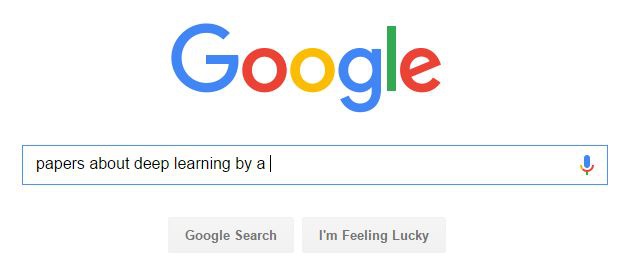 Movies-Related Search 
Similar to academic autocomplete suggestions, Bing's new feature allows users to formulate natural language queries about movies through autocomplete. Some of the type of queries that the user can formulate are as below:

Movies by director

Movies starring an actor in a particular genre

Movies from a particular year starring a certain actor

Movies starring a pair of actors
Bing Search: movies with robert de niro directed by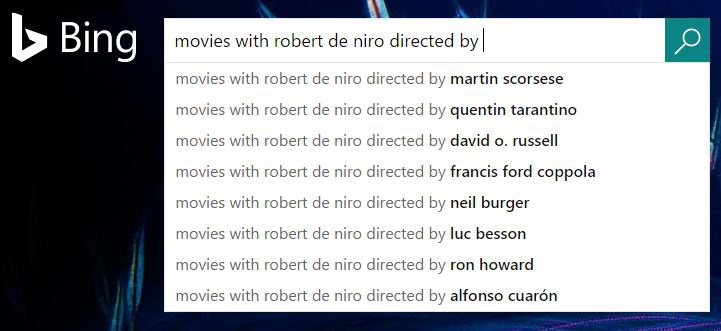 Google Search: movies with robert de niro directed by 

Bing is in advance regarding autocompletion in terms of academic and movies searchs compared to Google now. This is very good news apropos Search Engine Science, seeing that there are still some fields in search which can be enhanced by non Googlers. 
In connection with SEO, this improvement is significant because of internal search engines on websites. Websites should follow Bing's path in autocomplete suggestions on their  internal search boxes. Because by better understanding and predicting users search intentions, a website can serve most related pages to its visitors which will  increase users experience on those pages. User engagement is one of the key indicators in SEO since it affects directly googlebot crawl. As googlebot doesn't want to waste its resources by crawling pages which are not visited by people, it crawls less and less those kind of pages. For that reason if a website would like to get its pages crawled by googlebot, in the first place it should find a way for its users to consume them. Using internal website search  for that purpose on a big website is one of the best shortcuts. 
Thanks for taking time to read this post. I offer consulting, architecture and hands-on development services in web/digital to clients in Europe & North America. If you'd like to discuss how my offerings can help your business please contact me via LinkedIn
Have comments, questions or feedback about this article? Please do share them with us here.
If you like this article